Welcome!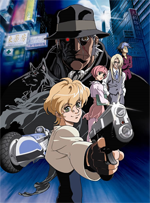 Welcome to heatguyj.com! This is a fan-site dedicated to the anime series Heat Guy J. Here you will soon find summaries, merchandise info, screenshot galleries, media, fan contributions, and misc. trivia! This site is meant to be a resource to both fans and anyone wishing to know more about HGJ.

Contributions are greatly appreciated, so please shoot me an email if you'd like to help out.
Updates
7/8/20 - Website 10 year and 1 month Anniversary!
One month and 10 years ago today is the 10 year anniversary of this website! I have a lot more time to work on this site now, so there's no excuse. Updates coming soon!
Updates: Fixed broken links to episodes on the Funimation site. Removed Hulu links, added Amazon links to episodes. Added a review on the dub to the Information page.

---
3/22/12 - Production Sketches, Fanart Submission
Sorry for taking so long to do it, but the production sketches are all uploaded. Also, thanks to Jerusha for the fanart of Daisuke!

---
6/24/11 - Calm Album
Well that was fast! Many thanks to Aya for providing the Wyse CD tracks for upload!

---
6/23/11 - Music is up!
The BURN OST, Hikari and FACE singles, and the full version for Kokoro no Sukima from the album Calm, by Wyse, have been uploaded! I tracked down someone who has the whole Calm album, so that will be uploaded as soon as I get hold of it!

---
6/23/11 - Galleries, Links, Hulu
The galleries are going up, slowly but surely. A while back I took a massive amount of 259 screenshots from
just
episode 2! Be on the lookout for more as I get to them.
I've also linked to Hulu's episodes in the media section as well as Funimation. I'll probably upload the soundtrack soon.
---
6/22/11 - Better late than never, right?
I bought this domain almost exactly one year ago, on 6/8/10. It expired about a month or two prior to that when Funimation let it expire, and my intent was to restore the domain to its former glory as seen when Geneon Entertainment hosted the page. There was more than just a dinky little trailer (it had a racing game with Daisuke's bike!), and it was actually both fun and informative to look around.

Obviously that didn't happen, however now that I have the time and have found a decent layout, I hope I can live up to those expectations.

Currently all that is active is the plain shell of this website, so if you have any suggestions or would like to submit fanart or fanfiction for those sections, or tidbits of unique info for the information page, I would love you forever. :)

Back to work now. I'll try to update weekly. Please excuse the dust.